The internet and social media are changing the way we communicate at every level, both personally and professionally.  This increased significantly in 2004 when Web 2.0 changed enabled substantially more effective two-way communication.  Facebook was also established in the UK in 2004 and Twitter followed in 2006.
Just look at the figures – today 58m individuals in the UK use the internet regularly and this is increasing by 1.5m each year.  Additionally, over 60% owns a smart-phone or tablet.
Development planning has seen a massive shift towards online consultation.  In 2005 the Government required that local authorities and other public bodies 'e-enable' all services including planning, public engagement and consultation.  As local authorities are now obliged to post all planning applications online, local residents can view planning application online.  And as community groups and activists discuss and debate development proposals on Facebook, Twitter and in blogs, the local media can quickly gather residents' views to inform online news stories, which then results in a further sequence of online engagement.  Because of this, it is vital that every potential new development has an online presence.
In 2010, I used social media in a public consultation for a retail scheme in Hertfordshire.  The client was keen to engage with young residents and I selected social media as an appropriate way of doing so.
The website attracted 1,029 visits during the consultation process and 31 questionnaires were completed online.  The Facebook page received over 1,900 viewings and 264 individuals gave their support to the page by becoming a "fan".  The average age of the Facebook users was 35 – 44 and 63% of respondents were female.  The Twitter feed attracted 106 followers and prompted some lively discussion.  Overall, 64% respondents were broadly in favour of the proposals and over 73% of survey respondents supported improved shopping facilities for the Borough.
Following the success of this project, I have continued to run online consultations for retail and residential developers.
But mindful of the constraints of social media, I set up ConsultOnline last year.  ConsultOnline is a comprehensive website and associated consultation service which runs for the duration of a public consultation.  You can find out much more about it at www.consultonlinewebsites.com.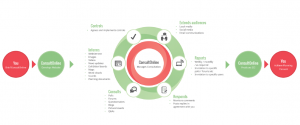 Social media has been found to be an effective way to promote ConsultOnline websites.  But ConsultOnline has many advantages over social media:
ConsultOnline does not require users to be registered with social media channels in order to take part
It offer a wider selection of communications tactics
Discussion pages are more easily visible, and therefore more accessible
Quick links enable the user to navigate around the site with ease
V cards enable users to download contact and event information directly to Outlook
ConsultOnline can limit participation to specific postcode areas and other controls are available as required
It enables users to hide behind an anonymous username if they wish – but ConsultOnline has a database of all users which can be supplied to the local authority as part of an SCI
ConsultOnline websites have a unique, specific domain name
A range of branding options are available as part of the ConsultOnline service
Clients can request changes to the template according to their specific requirements
The ConsultOnline template is constantly updated and improved upon
Users may register for updates via email
Reporting is significantly more comprehensive and accurate
With the exciting pace of change that we're currently experiencing there are considerable opportunities for progress.
A longer version of this article is available here:  New Approaches to Public Consultation